Today, we talk with the one who is behind the concept of our new ephemeral boutique and behind many of our designs / packaging: Florence Bouchard-Bédard, founder of BOUBED- scenography & space design.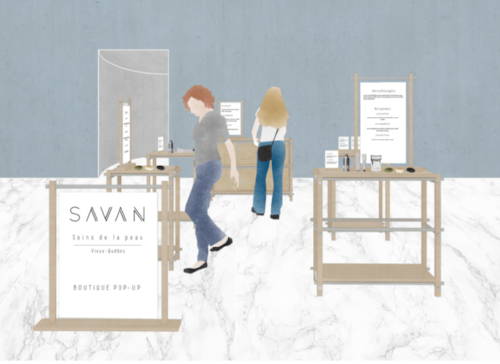 Florence, you did a bachelor's degree in architecture in Quebec City, followed by a higher degree in "space design" at Boulle school in Paris. Your unusual journey leads you to work on design and scenography projects, including that of our ephemeral shop that people can discover soon! You realize projects under the name of BOUBED - scenography & space design. Can you explain in a few words, what is scenography?
We can give the set design several definitions, but in my opinion, it is the design of spaces to create an atmosphere, to convey a message or to support a story. In short, it is arranging the space to support an idea. It can be applied to different types of projects, be it an exhibition, a show, an event or in this case, a shop!
We appealed to you by giving you the mandate to realize the design of our ephemeral shop. Our two requests were that it be easily removable and versatile to use anywhere, and that people live an "experience". In a few words, how did you approach the project and what was your guideline?
I first based on SAVAN's values, simplicity, authenticity and universality, and I wondered how to transcribe them in space. So I looked for a simple and pretty way to present the products and introduce people into the universe SAVAN: beautiful materials, a clear and neat presentation that speaks to all. Finally, although it is a challenge, I found that the idea of ​​a demountable and modular shop went hand in hand with SAVAN products that everyone can use and adapt!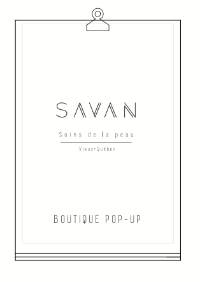 What do you want people to notice when they enter the shop for the first time?
I hope they will capture the idea behind SAVAN: to offer beautiful products that are effective and accessible to all!
We are extremely excited about this project and especially very happy to have used your services! On your side, what aspect of this project did you prefer?
Although each project is different, I love working for SAVAN because the style of the brand fits me well :)
Thank you very much for your time :) We can not wait to present the fruit of this project 1er, 2 and 3 September at Auberge Saint-Antoine! For those who would like to know more or collaborate with Florence, you can find all her information at www.boubed.com and on Instagram at @ boubed.design